It is tough enough on those with food allergies during this anticipated tradition of Halloween.
 But.. this year, we all need to juggle managing our child's food allergies, Halloween festivities and the "real boogeyman this year"-The COVID-19 pandemic. This year we have ghosts, the boogeyman, food allergies and the virus to juggle.
 So, what do you think? Are we going to have Halloween this year?
 We think that the children do need some sort of normalcy and with careful planning and thoughtful precautions, we can have a safe successful Halloween.
 Here are few tips and tricks to help you and your family have a safe Halloween. Trick or Treating will need to be re-imagined this year. We will need to be disciplined and really plan to make sure we "mask up" and keep social distancing at the forefront of our minds.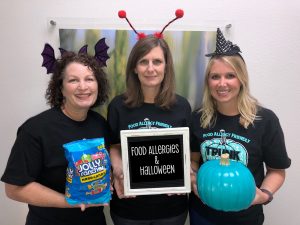 Pre-Halloween Hype and Tips: 
   1.  Let's talk with our children beforehand about what it will "look like" and "feel like" to have a fun and safe Halloween this year. We want to emphasize being "careful" rather than being fearful. Also emphasizing, that our goal is to keep others safe. You will want to have this discussion with your  child several weeks prior to the Halloween events.
    2. Decorate your home for Halloween and paint your pumpkin teal blue to educate, gain support,          and create awareness about Food Allergies during the Halloween season. Support the Teal Pumpkin  Project to create awareness about food allergy in your community. This may        encourage your neighbors to have non-food Halloween treats.
    3. If you decide to skip out on Trick or Treating this year due to the pandemic, you can still have a lot of fun. One idea is planning a Halloween Egg Scavenger hunt in your backyard with safe treats inside the eggs for your children to find.
    4. Typically children grab their candy out of a bowl. This year avoid using any grab bowls in order to reduce the risk of virus transmission. Instead, consider individually wrapped Non-candy treats on a table on your porch or driveway for the children to grab as they pass. You can sit on your              porch and wave as they pass in order to maintain your social distancing.
    5. Here are some non-food treats that one can leave outside of your home on the porch separated or spaced out for the trick or treaters:  glow bracelets, books, rings, stickers, and pencils etc.
 Trick-or-Treating during Halloween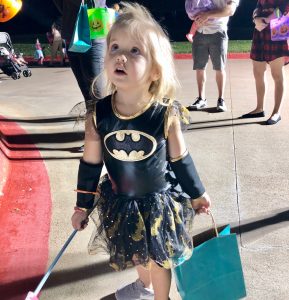 Check to make sure your child's epinephrine auto-injector has not expired and is up-to date.
Children and adults should wear their masks with their costumes. Have Fun with this! Have your child pick their mask and decorate it. Even though they will be outdoors trick or treating, masking is going to be of paramount importance to avoid spreading the virus.
Confirm that your child is carrying their auto injectors (Epi-Pen or Auvi-q) with them at all times, or that it is with their responsible guardian.
Remind your child to avoid eating candy or other food while they are trick or treating, in order to prevent an allergic reaction during the festivities.  They should wait until they return home to have their candy reviewed.
Remind your child to avoid crowds during trick or treating.
 So, what are we doing at the Food Allergy Institute   for Halloween?
 We thought you would never ask!
 Here at the Food Allergy Institute we are having our "Food Allergy Friendly Annual Trunk or Treat."
 This year, due to the pandemic are having a "Trunk or Treat Parade" in order to maintain social distancing during the pandemic. We can't wait to celebrate, give away prizes and see all the amazing   costumes. We can't wait to see you!
SOME TRUNK OR TREAT FUN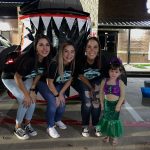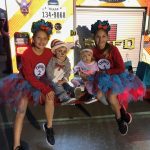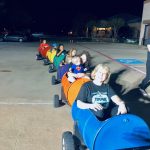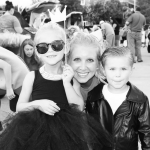 Food Allergy Institute "Trunk or Treat" Parade
When: Wednesday October 28, 2020
Time: 6pm-7:30 pm
Where: 3051 Churchill Drive, Flower Mound, TX 75022